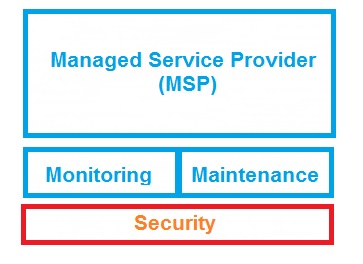 Many of our clients have heard the buzz about MSP and now, as promised, we are rolling out the program. For those who are not familiar with what an MSP is, the initials stand for Managed Service Provider. What does that mean? It means that we will continually monitor your system rather than having to schedule time to do this manually on a regular basis. MSP provides more protection for your computer because we are monitoring the system in real time. This provides added piece of mind, value and convenience. The added value is two-fold. The first is that all your services as well as some labor and discounts can be included in the monthly fee depending upon the package chosen. The second is that you will no longer have to keep up with various expiration dates and renewal fees. Everything is rolled into the monthly fee for the package of your choice. One fee, one robust service automatically and securely billed to your credit card or bank account.
If you are still not sure that MSP is right for you, please give us a call. We can go over what you have and what package may suit your needs.
Keep in mind that if you act on our deal, you can get a $10 discount off the monthly fee for the first year now through Thanksgiving. Call now to sign up!
**Discount applies to first computer only.**